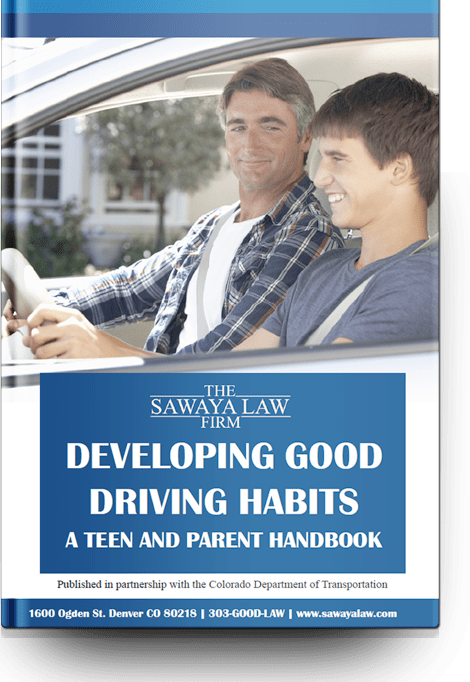 Safe Driving Habits – A Free Handbook
With our Safe Driving Handbook, The Sawaya Law Firm and the Colorado Department of Transportation aim to educate teens and parents about safety behind the wheel.
With more distractions in our lives than ever before, educating teens about safe driving habits is extremely important. Distractions not only endanger teens and new drivers, but also veteran drivers, who feel they can multitask. They cannot.
Our Safe Driving Handbook addresses both sides of the new driver equation – helping teens understand the privileges and responsibilities that come with driving a vehicle, and educating parents and adults on their duties as safe-driving role models. We provide…
Step-by-step instructions for driving lessons
Tips on tackling distractions
A pledge that both teen and parent can take, promising to drive safe and free of distractions.
It's all here – download your free copy today!
We recently delivered the first 1,300 copies of our Safe Driving Habits handbook to local high schools. East High School, South High School and the Denver School of The Arts were the first to receive them. We even brought the firm's tiny ambassador, Lil' M, to disburse the educational booklets!
These Denver high schools have taken the pledge to practice good driving habits, and so can you! The Sawaya Law Firm is committed to reducing accidents on the road, sponsoring free cab rides for holidays, and taking an aggressive stance against distracted driving – the latest hazard to Colorado drivers. We're honored to have the Colorado Department of Transportation (CDOT) as a publishing partner, and their quote on our handbook says it all –
"When your teen is in the driver's seat, parents are far more than just passengers. The role of parents is to steer their teen driver through the dangerous first years of driving when most crashes occur. It's important for parents to take an active role … and your teen may someday thank you for it!"

---
Call Us | 720-709-2802
Your Copy Is Available Now.