The Role of Health Insurance in Car Accidents
Paying for the medical treatment you need following a motor vehicle accident can get complicated. If you've recently been in an auto accident in Denver or at anywhere else in the state of Colorado, you need to understand the role your health insurance may play in paying for your treatment and care.
Does your auto insurance policy include medical payments coverage? Will your health insurance cover the costs associated with treating your injuries after an auto accident? Was there someone else at fault for the crash who should pay your medical expenses?
What many people don't realize is that unless you have medical payments insurance, the costs of your injuries will not be covered by your auto insurance in cases in which an accident is determined to have been your fault. In these cases, your own health insurance will cover the costs of medical care. In accidents in which you were not at fault, you may be eligible to file a claim or lawsuit against the responsible driver to recover compensation for medical costs, as well as other damages.
The Cost of Auto Accidents

The National Highway Traffic Safety Administration (NHTSA) showed a 3.1 percent decline in traffic fatalities in recent years. While this is good news, the Rocky Mountain Insurance Information Association (RMIIA) states that a study indicated that motor vehicle accidents in the United States cost close to $1 trillion in loss of productivity and loss of life in a recent year.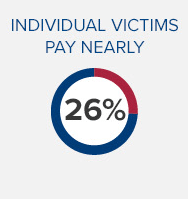 The average liability claim for property damage in 2013 was $3,231, and the average claim for bodily injury that year was $15,443, according to the RMIIA. While private insurers reportedly pay around 50 percent of all motor vehicle accident costs, individual victims pay nearly 26 percent, with health insurance companies covering only about 14 percent.
When to Use Health Insurance After an Auto Accident

Medical payments insurance pays claims when an individual is injured in an auto accident, but not all drivers carry this form of coverage. If you do have medical payments coverage, your health insurance can supplement your auto insurance policy if the costs exceed the maximum limits of coverage. For example, if your medical payments coverage is $15,000, and your medical expenses total $25,000, your health insurance may cover the additional $10,000 in accident-related medical bills. This can help you avoid paying out of pocket for the medical expenses associated with the accident.
Health insurance can also be important after an auto accident when a driver sustains injuries that his or her auto insurance policy does not cover. Your health insurance coverage could help cover the costs of life-saving medical treatment and care. If another driver was at fault, your own health insurance could help pay medical bills until compensation from the liable driver is recovered.
What you'll want to take into consideration when deciding whether to use your health insurance after an auto accident is:
Were you or the other driver at-fault? (This will determine what auto insurance coverage may cover the costs of your injuries.)
If you were at fault, do you have medical payments insurance on your auto policy?
The cost of your auto insurance deductible.
The cost of your health insurance deductible.
Will you be required to make a co-payment under the terms of your health insurance policy?
What treatments or charges may not be covered under your policy?
Should I Have Medical Payments Insurance Added to My Policy?

While adding medical payments insurance to your auto insurance policy will incur an additional expense, it can prove very beneficial should you ever be injured in an accident in which you were at fault. According to DMV.org, Colorado's minimum liability insurance laws do not require drivers to carry more than $25,000 per person for bodily injury, $50,000 per accident for bodily injury, and $15,000 per accident for property damage.
"Unless you want to be financially responsible for medical costs incurred due to the injuries you or your passengers sustained, consider adding medical payments insurance to your auto insurance policy."
In car accidents, it is the auto insurance you have that can be used to help pay your medical bills, as well as those of any of the passengers in your vehicle. Unless you want to be financially responsible for medical costs incurred due to the injuries you or your passengers sustained, consider adding medical payments insurance to your auto insurance policy.
Auto insurance providers are required to offer at least $5,000 in coverage, however you can choose to opt out or obtain coverage in increments of $1,000 toward accidental injuries. Those who have one of the higher cost healthcare plans often have a substantial amount of medical coverage, while other accident victims may have very little.
When It's Not Necessary to Use Health Insurance After an Auto Accident

One of the primary situations in which using your health insurance to cover medical costs after an auto accident may be avoided is cases in which the other party was at fault. When another driver's negligent driving behavior causes an injury accident, that driver should be held liable. You, as an accident victim, should not have to bear the expense of injuries that were caused by another driver's negligent behavior.
Our attorneys understand how complicated insurance can be, but we also know how important it is for accident victims to have their rights protected. We are here to be the advocate you need. If you have been injured in an auto accident, contact The Sawaya Law Firm to schedule a free consultation with an experienced Denver auto accident attorney for help.
Sources:
Michael established The Sawaya Law Firm in 1977 and built it into one of the largest personal injury law firms in Colorado, with more than 20 lawyers and 80 staff members serving clients from five offices located in Denver, Greeley and Colorado Springs. Throughout its history, the firm has stayed true to its 12 Core Values, which emphasize excellence in advocacy and a commitment to providing outstanding client service. Michael studied sociology and economics as an undergraduate student at The Colorado College, and he earned his law degree from the Texas Tech University School of Law. In addition to being involved in several legal and community organizations, Michael enjoys playing music and cooking, and he has written a book on spiritual matters.