Forgiven
A woman accused of being distracted by her cellphone when her car struck and killed a bicyclist has been barred from using any portable communication device for two years.
"I don't think she has a right to have a cellphone," Clinton County District Judge Stewart McDonald said. "I think it's a privilege."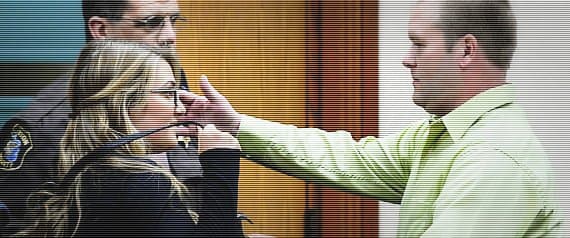 Police said Mitzi Nelson was distracted by her phone last fall when she hit Jill Byelich, 35, who was riding a bike near DeWitt, north of Lansing. Nelson pleaded no contest to a misdemeanor charge.
Nelson, 23, will spend at least 90 days in jail over staggered periods and must speak to new drivers about the dangers of distracted driving, the judge said Wednesday.
Byelich's husband, Jordan Byelich, suggested the cellphone ban. He hugged Nelson in court before she was taken to jail.
Defense attorney Mike Nichols said he doubts he will challenge the sentence and phone ban.
"Mitzi may be just fine with that," he told the Lansing State Journal.
Nichols praised Jordan Byelich's compassion after witnessing the hug.
"That's what it's all about," he said.
ORIGINAL STORY HERE–> Lansing Journal
Photo – Rod Sanford/Lansing State Journal/AP
Michael established The Sawaya Law Firm in 1977 and built it into one of the largest personal injury law firms in Colorado, with more than 20 lawyers and 80 staff members serving clients from five offices located in Denver, Greeley and Colorado Springs. Throughout its history, the firm has stayed true to its 12 Core Values, which emphasize excellence in advocacy and a commitment to providing outstanding client service. Michael studied sociology and economics as an undergraduate student at The Colorado College, and he earned his law degree from the Texas Tech University School of Law. In addition to being involved in several legal and community organizations, Michael enjoys playing music and cooking, and he has written a book on spiritual matters.