5 Songs that will Legally Blow your Mind!
In a world full of songs about love, heart-break, and partying, we began to wonder where the songs about law and the legal system were. Imagine a land in which Britney Spears' next hit was "I'm a Lawyer for You" and One Direction made young girls swoon over "Steal my Lawyer" – Yeah, we like the sounds of that, too. While we continue to dream; here is a list of past law and legal related songs: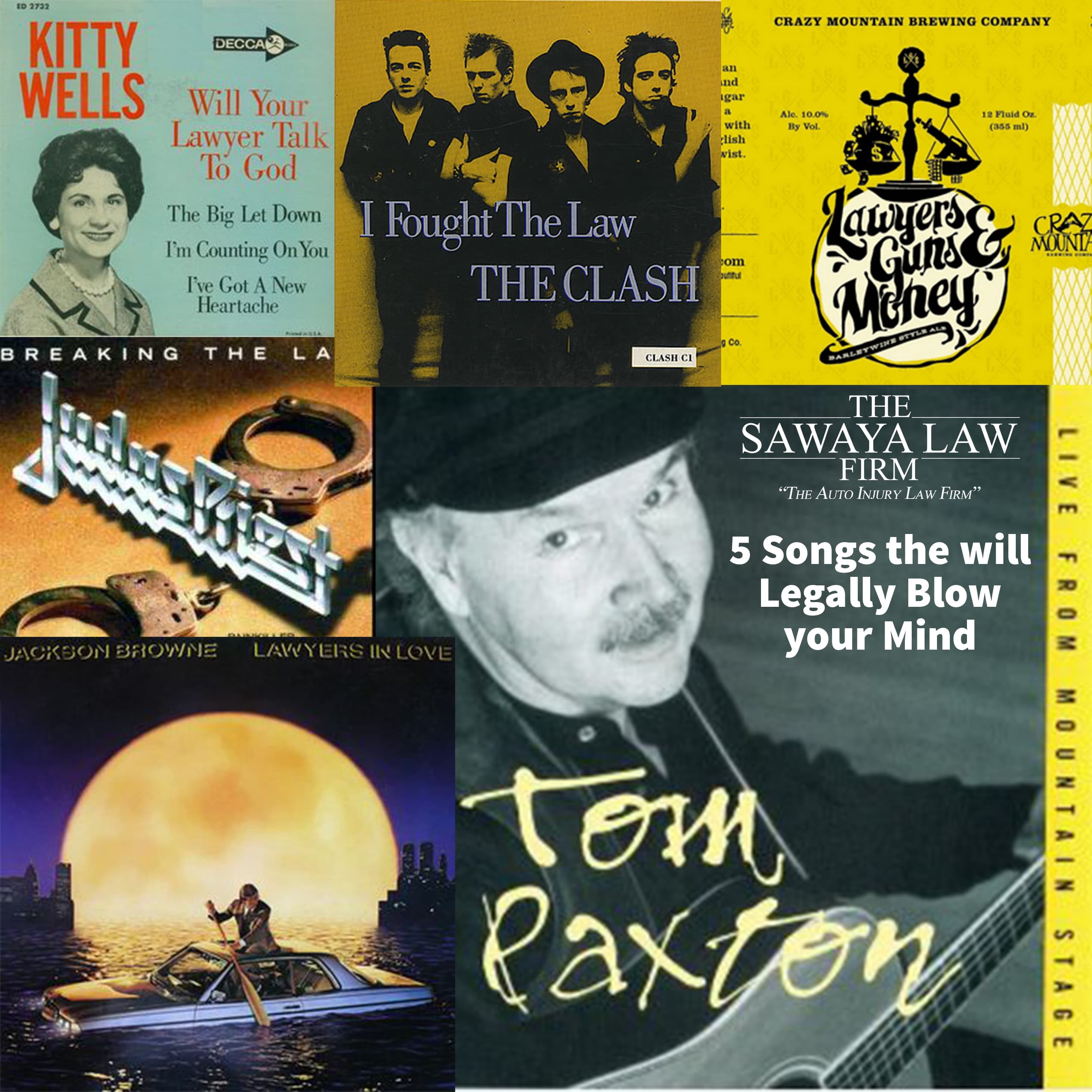 Lawyers in Love – Jackson Browne – 1984
This 1980s hit has lyrics even the most intellectual, Sudoku lover can't crack – We dare you to decode the meaning of "God sends his spaceship to America…" and "The Russians escaped while we weren't watching them…". Not only are the lyrics a mystery, but the music video challenges one's ability to wrap their mind around the deepest questions of the universe.
I Fought the Law – The Clash – 1977
The Clash is sending a message out to all those with an aversion to authority – Just follow the rules…cause you're gonna lose. Plus, if you break the law, then you're on the run and you have to leave your loved ones behind, and who wants to do that?
Will Your Lawyer Talk to God – Kitty Wells – 1963
The divorce lawyer had all her husband's paperwork prepared, but who will defend his heartless actions before God? Not his lawyer! Our contracts only cover work we do on this side of eternity. There are some judgments even we can't co-counsel. Kitty – he's on his own.
Breaking the Law – Judas Priest – 1980
Judas Priest has had it with broken promises and dead-end jobs – It's time to "put some action" in their lives. While we aren't sure what laws they are breaking, it's safe to say they have a strong disregard for the law and for fashion. The video and the outfits they've chosen show this disregard to an incriminating degree! Case closed!
One Million Lawyers – Tom Paxton – 2001
Tom Paxton can't imagine a world, worse than one with one million lawyers – he even compares this to a plague of locusts. Well, Tom, who's gonna help you the next time a plague of locusts obstructs your view from your driver's seat, and you become injured in an auto accident. We will gladly sue the locusts and work with their insurance to obtain a fair settlement, but since you fear us rather than understand us, we'll wait patiently till you need us.
Do you have a favorite song involving law or the legal system? Share it with us in the comments below or by tweeting @SawayaLaw using the #SawayaSongs! As always, if you have a question about a potential case – give us a call. Consultations are always free and available 24/7. 303-GOOD-LAW. www.sawayalaw.com
Michael established The Sawaya Law Firm in 1977 and built it into one of the largest personal injury law firms in Colorado, with more than 20 lawyers and 80 staff members serving clients from five offices located in Denver, Greeley and Colorado Springs. Throughout its history, the firm has stayed true to its 12 Core Values, which emphasize excellence in advocacy and a commitment to providing outstanding client service. Michael studied sociology and economics as an undergraduate student at The Colorado College, and he earned his law degree from the Texas Tech University School of Law. In addition to being involved in several legal and community organizations, Michael enjoys playing music and cooking, and he has written a book on spiritual matters.